Does your dog have epilepsy?
The Royal Veterinary College, University of London (RVC) has developed the first ever app that allows dog owners to monitor and improve the lives of pets that suffer from epilepsy.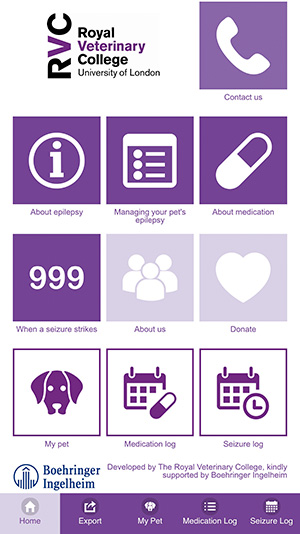 'RVC Pet Epilepsy Tracker', lets dog lovers map seizure activity and medication requirements on their mobile phone and tablet devices for the first time.
The app has been developed in collaboration with the human epilepsy charity Epilepsy Society, who created a successful app to manage the condition in humans. It is available to download on Google Play now for Android devices and Apple iTunes App Store for Apple devices.
As well as having a massive effect on the animals' lives, canine epilepsy can be an emotional burden for owners. A huge commitment is required for looking after sick pets, including medicating the dogs several times per day, constantly monitoring for drug side effects, and ongoing financial costs.
To help increase owners' understanding of the condition the app contains up-to-date veterinary knowledge on managing epilepsy. This includes everything from what the condition is, how it is diagnosed and identifying different seizure types, to practical advice on what to do when a seizure strikes. It also includes functions such as reminders for each medication prescribed because many dogs require more than one drug to treat their seizures.